One of my basically two or three BFFs is a very, very special creature indeed. She inspires me, and astounds me.
I could go on and on, but that's for another post, this is just a short posting rampage. She deserves to be a part of it.
Not only is she an amazingly talented musician, keyboardist, vocalist, and innovative composer, but she's also gorgeous (doesn't really matter in the grand scheme of things, but helps as a public performer), and a gorgeous human (intelligent like wisdom, an insightful but aware and not in your face/boundary-overstepping friend, and a million other things but perhaps also most importantly- hilarious like six funny comedians plus me.)
But, the focus of this post, of course, is her talent of spicing up some tasty favorite cooking treats. You look at that egg and sausage delight plate. And know it would melt in your mouth and then set it back on fire. She spice so nice.
I wish I had the glorious pictures she sent of both her and her man's variations on "pork and beans" (I felt so embarrassed when I shortly thereafter just ate a naked hot dog with simple ketchup and mustard).
Mmm, she taught me how to love and to enjoy and relish! in food. But, alas, I still don't sometimes. Sometimes I'm just blandy mcblandee blah. I have a ways to go. Friends should always challenge you to embetter yourself.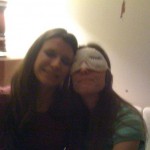 She and I also, of course, have shared many a marvelous drink concoction, such as ozberry l-m'nades (gotta ask me in person about that one!) and a tasty fine spicy bloody mary. (inside joke- bloody maries for garry!) MARGARITAS!
So my TLDR is: I have a lovely, inspiring, amazing friend who makes even better than all of that culinary concoctions and adult beverage creations- deliciously exactasty!