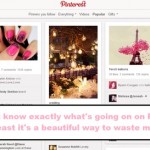 (a pin i made when i first joined)
i recently got addicted to pinterest, even though i'd joined years ago when it first started and didn't really care for it. it might be because of any or all of these reasons that i love it NOW:
1) i understand it better. click on the picture to go to the link. (of COURSE i knew that! but, you know, it could help someone out there who doesn't get that yet)
2) i have way more time. since my boyfriend and i are not in the same location, i have more time. and, i don't have as much job as i'd like, so i have enough time to browse, compile, share, etc…maybe even time to DO the pins?!
3) i do want to do the pins. i'm getting more homey, and at the same time thrifty! i'm collecting recipes and workout moves, which are useful in any stage of life. i'm also peeking at wedding and kid stuff, which is useful/fun to daydream. whatever. good quotes, tips, crafts, and a lot of other stuff i could do. and will!
so maybe i've only done a few of the hundreds of pins i've put up, and maybe i'm annoying people by posting so much (see pinterest etiquette), but i am sharing and spreading the joy. it's great.
alas…i'm guessing it will probably just be a phase. soon i won't go on/care. maybe. i mean, my working out phase didn't and will not end! 🙂
this is one of my new favorite HaHa ones! (great quote)