I bought a Garmin Forerunner 305 on Craigslist, which I just finished knocking in terms of real employment opportunities, for a much better price than anywhere else I had found.
I was happy that it worked, and today I've spent some time setting it up, and figuring out my maximum heart rate (which my mother told me can be found by subtracting your age from 220).
Now it's time to take it for a run. I'm going to try and do a pace run where I push myself a little. I'm not very methodical in my ways. I am running the Philadelphia 1/2 Marathon in November (11/22/2009) and my goal is to get under 2 hours, which would be under a 9:10 pace. I think that is doable, seeing that my goal would be like an 8 and a 1/2 minute pace, but it's for 13.1 miles, which I've never done before.
As I said, I'm not very methodical, but I am enjoying myself all along the way, and I hope to continue to do that up until race day- read more about my training here!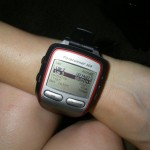 ***1 hour later ***** Ugh. Went for a run. The Garmin pedometer GPS thing seems awesome. My performance, however, did not. I got depressed. At first, I was all excited because it was cool out (or so I thought- later I realized it was pretty humid). I pushed myself and I'm embarrassed to say I did not get under a 9-minute mile. I blame my dog for stopping to pull a #2, and then I feel bad for blaming her.

(what is wrong with me?! how could you even pretend to be mad at this ball of fluffy cuteness!?!?!)
But overall I'm excited to figure out the Garmin and its many possibilities- virtual partner, pacing, heart rate, etc.! (Just might have to leave the dog at home 🙁 )