So there I was, hanging out at my house which may or may not be in Jenkintown, and suddenly I smell something weird. And I go outside and look and it smells worse, and I see smoke.
House on fire, at the corner of Greenwood and Walnut St. Let the gawking begin!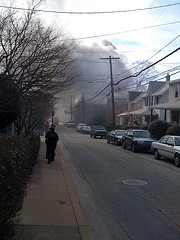 People started flocking outside and don't worry, I got pictures of them too, I just have to go get my wire and upload the pics in a few hours, but first I wanted to write about it to get it up there.
Now we're chillin' in the afterglo and enjoying the rest of the nice day outside – now that there aren't billowing clouds of smoke and some ash!
It was pretty awesome, and yes I admit to being one of the worst perpetrators of gawking.