Today we're going to learn about where Madlib's name came from, kids.
It stands for:
Mind Altering Demented Lessons In Beats
He's good at making good on this acronym.
Of course I knew that, being basically his best friend: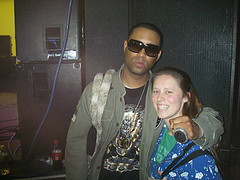 (your favorite blogger amandoo got to meet one of her musical-idols madlib and he was kind enough to pose for one of those dopey-lookin-fan-pics)
Oh, p.s., did I mention I'm going to California for Spring Break (Otis, you available to give some demented beat lessons?)….someday, someday.
But I re-read up on it in this less-than-a-year-old article on madlib from clash magazine, which included an interesting fact I did not previously know:
"Fact: Madlib's hometown, Oxnard, California, is known for being a strawberry and lime bean capital."
Perhaps I shall take a field trip whilst I am in the near-LA area. Mmm, strawberry and lime beans.