they're mighty tasty- go to elf's website to get some tasty ideas and order away, order today. their makeup is not tested on animals, it's "natural", and they do some good stuff. (they have a donating deal with peta but i'm not a huge fan of peta, so whatever you like).
the most important part is the cost = minimal
i received some as a gift for christmas and really liked it. my sister wasn't going to tell me at first (because she didn't want me to think less for her only spending like 7 dollars on my gift), but she told me they say that eyes, lips, and face is going to change their name or they're going out of business. a mighty good ploy if you ask me.
she also told me the code "carolina" which worked for 1/2 off my order up to $15. so i ordered a ton of stuff, and got a gift card for a friend, and the total was very little. i think i got all the makeup pictured below, for less than $15 (shipping included)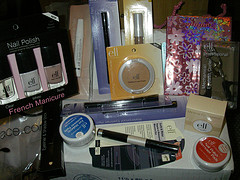 it was so good i had to order again. the makeup remover does not bother my face, the makeup was all quite awesome. one small complaint- i got a waterproof mascara and it was kind of dry. but it was only a dollar, so i didn't complain. i do not recommend the mascara, but other than that i recommend everything. get one of everything.
i'm not huge on makeup, but with prices so low and quality so decent i am upping my look, and, as you well know, if i'm going to be a famous dj hiphop performer comedian, i might want to look real good for the cameras.