you know the night is going to start off right when you find yourself inside the Stones Throw tour bus- before the show. it was too cold to chill outside, so we joined in on the fun. Guilty Simpson and MED were playing the bball game on PS2 or whatever, we were doin our thing, and madlib was like 'yo- could you pass me those cds?' and it was both awesome in its literal sense and also slightly awkward. a great time overall, and it was mostly due to me tapping on the window repeatedly.
phenomenal show. looked and felt like this:
sounded like this (even more videos here):
PB Wolf spinnin' Come on Feet & All Caps
[youtube nDnMpwX77SY]
Madlib- Take it Back & Chippin
[youtube ztG8HEo9mso]
MED- Raid & Break it Down
[youtube 7PArUqvWxrM]
i got to meet madlib! yeah i waited like a loser fan but met him probably cuz of the backstage passes signed by PB Wolf.
madlib & mandoo
he signed my Rappcats vinyl
i know i may seem like a huge dork, but i assure you i am cool. PB Wolf laughed at me about several things: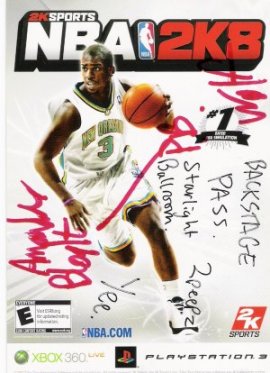 fake backstage passes, cuz my rhyme money comes like molasses, but i could crash test a lesson on makin fun of me real fast- at this i'm the best with better humor and wit over any counterfeit tryin to hit on my too legit future spits.
what that says, basically, is that i could more quickly and deftly make fun of myself with a more advanced word choice and humor style than anyone else, and that is why i'm not actually a hopeless fan. mark my words. i'm hope like a bird. soon my music'll be heard.
the show was excellent. madlib had better stage presence than rumored, and i respect his chill style. he was also really nice, a whole lot nicer than that other moody rhymer i used to love as a person, now just as an artist. madlib is mad mellow and on&on. can't wait for the EBadu Madlib Collab.
though we didn't bounce with them back in the tour bus because we have to do things like laundry and working early jobs, when we got back, my friend razmatas gave mrak and i the complement:
"you guys are the most ghetto people i know"
again reinstating the fact that, though i am overly educated and all jabbery-jab-like, i am going to succeed as an undergroundesque hip hop star.